Back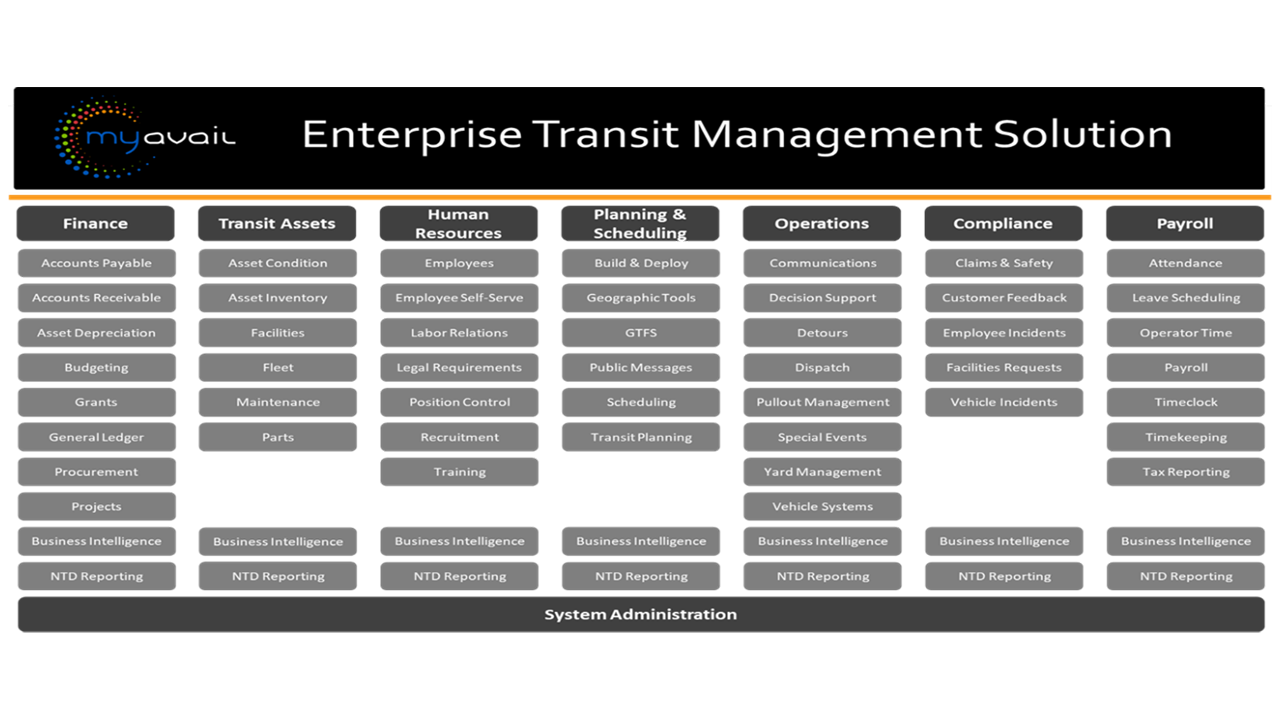 ETMS Can Revolutionize Bus Maintenance Management
With the increasing complexity of modern buses and the demands of maintaining a diverse and expansive fleet, long-term success for transit agencies is more challenging now than ever and can easily turn maintenance management into a laborious, costly task. 
Technology is one crucial component of maintaining an efficient maintenance operation, and effective ETMS (Enterprise Transit Management Software) can drastically help optimize maintenance schedules, reduce downtime, and improve overall fleet performance.
A comprehensive ETMS provides a centralized platform for managing all aspects of transit operations. Because of the flexibility and integration of the ETMS, an agency's fleet maintenance benefits from a single shared database flowing seamlessly across suites and throughout the organization. This eliminates the need to manage multiple software applications to perform daily work duties or develop additional interfaces. 
The dissemination of information and timely communication is a critical element in the transit space and creates a chain reaction in that every department directly impacts the next. A delay in communication can dramatically interfere with integral timelines, negatively impacting maintenance effectivity, customer experience and more.
This lag in communication often stems from the use of multiple systems. Many times, software used in the transit industry is not actually designed for the transit industry and each piece of the operational system, including finance, operations, administration, and maintenance are all part of a generic ERP system. 
However, transit agencies are not typical businesses. This means that funding, payroll, operations, maintenance and so much more are vastly different than other businesses. When your software is not designed for those unique challenges, it fails to provide accurate insights and solutions. 
Avail Technologies understands the value of any ERP/EAM system extends beyond the ability to just perform daily operational functions. Insight into operations ensures an agency is making the best decisions for its organization. 
The myAvail ETMS Transit Assets Suite offers hundreds of canned reports across the suites and was specifically designed to adhere to FTA's Transit Asset Management Guide. As such, it can manage asset classes, and enable components of asset management including inventory, purchase and work orders, condition assessment, and performance analysis. You can track the lifecycle of all agency assets including rolling stock, components, equipment, and facilities.
Transit assets allow for a strategic and systematic process of operating, maintaining, upgrading, and expanding physical assets effectively throughout their life cycle. It focuses on business and engineering practices for resource allocation and utilization, with the objective of better decision-making based upon quality information and well-defined objectives. 
As a cloud-based, fully integrated enterprise resource planning (ERP) solution designed for public transit, each suite addresses specific aspects of public transit operations and maintenance that all agencies use. However, nearly every public transit agency currently uses several different software systems and spends a lot of time and money maintaining and integrating these systems through expensive development and maintenance contracts. 
Agencies are  faced with problem-solving decisions daily. If your system is not providing real-time data, you could miss opportunities to make business-changing decisions. 
It is important to have a system that recognizes transit obstacles and  Avail customizes with a transit-specific all-in-one system, all your departments are capturing real-time data. As a unit they can make immediate, data-driven decisions.
With empowered decisions comes improved organizational performance. After implementing a new system that takes all transit issues and solutions into consideration, you'll see cost and efficiency improvements across the board. This leads to both short- and long-term success.
David Mugica, Director of Business Development