Back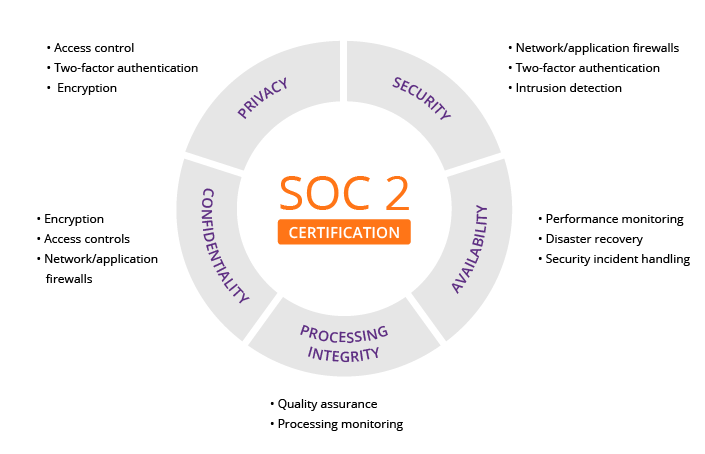 The Importance of SOC 2® Examinations
In today's increasingly digital world, where technology is in almost every aspect of our lives, the need for a strong culture of security has never been more crucial. Cyber threats continue to evolve and pose significant risks to individuals, organizations, and even nations.  Building a culture of cybersecurity is essential to protecting our sensitive information, preserve our privacy, and ensure the integrity of our digital infrastructure.  By instilling a shared responsibility and awareness of cybersecurity best practices, we can collectively defend against cyber threats and create a safer online environment for ourselves and our customers.  Avail Technologies, Inc. recent SOC 2® examination shows that Avail is ensuring the security and integrity of our organization's systems and services, especially when it comes to handling sensitive data and providing services to clients.
What is SOC 2®?
SOC 2® stands for "System and Organization Controls 2." It's a framework developed by the American Institute of CPAs (AICPA) to evaluate the controls an organization has in place to ensure the security, availability, processing integrity, confidentiality, and privacy of the data it processes on behalf of its clients. A SOC 2® report is relevant to organizations that provide services and handle sensitive data, like cloud service providers, data centers, and Software as a Service (SaaS) companies.
SOC 2® examinations involve an audit process where a third-party auditor assesses the organization's controls and practices against the criteria defined in the SOC 2® framework. The goal is to ensure that the organization has adequate safeguards in place to protect the interests of its clients and the integrity of their data.
Why is SOC 2® important to Avail and its customers?
A SOC 2® report provides our clients or partners a layer of confidence that Avail is properly ensuring data security and control and is the most widely accepted form of criteria to demonstrate IT and data controls. For security-conscious transit agencies, a SOC 2® examination is a minimal requirement when considering a Software-as-a-Service provider. Also, as an ERP software provider that stores personal information, such as human resource and payroll documentation, it is critical that we have the customer's trust that their personal information is secure, and Avail has processes in place to prevent and respond to data breeches.  Having SOC 2® reports proves to our customers that we are the right vendor for the job because we commit to keeping their system operational and secure.
How can your agency benefit by choosing a software provider, like Avail, who regularly completes SOC 2® examinations?
Risk Mitigation: By adhering to the stringent security controls set forth in SOC 2® controls, we reduce the chances of data breeches, downtime, and other security incidents that could disrupt operations and harm the reputation of both our organization and yours.
Transparent Accountability: SOC 2® reporting ensures that our processes and controls are audited by an independent third party, assuring our clients that their data is being handled responsibly and that there's external validation of your security practices.
Long-Term Partnership: Our commitment to security isn't just a one-time effort – it's an ongoing commitment. Our clients can trust that we'll continue to invest in security measures to stay ahead of emerging threats to continually pass our SOC 2® examinations.
Peace of Mind: SOC 2® reporting ultimately provides peace of mind for both our organization and our clients You can focus on your core operations, knowing that your sensitive data is in capable hands, and that any potential issues will be handled efficiently and transparently.
How is Avail innovating to be at the forefront of cybersecurity to help agencies?
As a technology partner, not just a provider, Avail is taking a holistic approach to security. This approach is guided by a cybersecurity committee and INFOSEC policy to secure our entire range of products and services. Our entire back-office suite of Enterprise Transit Management software is cloud based to enable agencies to migrate away from reliance of on-premise servers and hardware. Now that Avail has SOC 2® auditing and reporting, our customers know that we have enhanced intrusion detection, security logging retention and audit reports available to support agency regulation compliance, as well as increased limits on cyber insurance.
Brian Farabaugh, Director of Engineering at Avail Technologies, Inc.