Back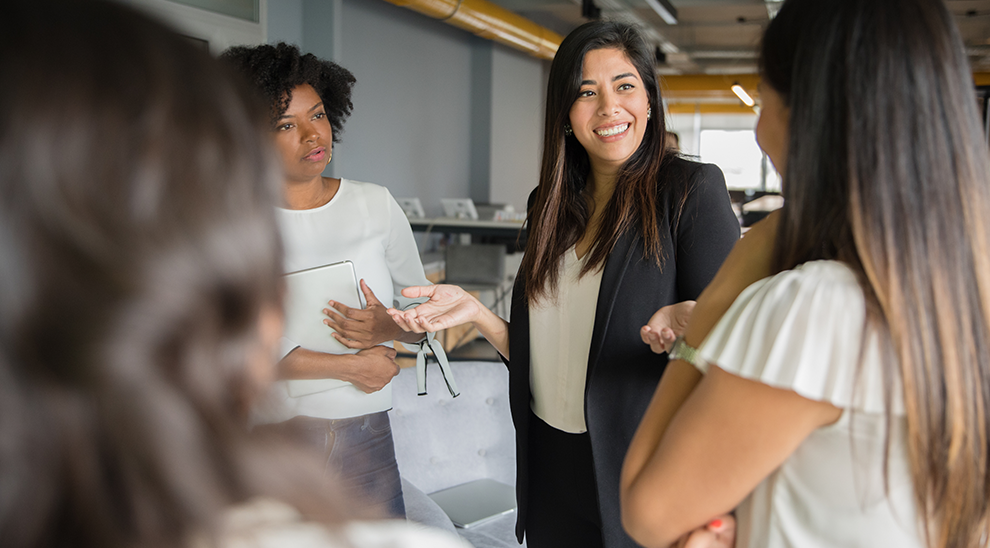 Latinos In Transit Strives To Increase Representation in Transit Industry
The events of last year brought to light racial inequities in many areas of our society, including the lack of diversity and equity in the transit industry. There has been a long-standing disconnect between transit service providers and the people who rely on transit services to go to work, school, and medical needs. Latinos In Transit (LIT) was formed in 2016 to help close that gap. The organization grew exponentially during the pandemic attracting members and organizations from across the country.
LIT is made up of transit professionals from both the public and private sectors. Some of the organization's members are immigrants themselves or children of immigrants who did not have an easy pathway to the business world through higher education or personal connections. Latinos In Transit provides networking and professional development opportunities through a variety of programs and activities such as monthly virtual coffee chats, LIT Leadership Summit, scholarships, networking events and a presence at industry events like the APTA Expo.
Avail is proud to partner with LIT on a booth at this year's APTA EXPO in Orlando. Sales Manager David Mugica is one of the organization's inaugural board members and remains an active member. He's seen firsthand how the organization has benefitted both the transit industry and the Latino community.
Mugica, along with LIT President Alva Carrasco and Vice President Salvador (Sal) Llamas recently sat down for a Q&A about the organization's past, present, and future. Carrasco is WSP USA's Transit and Rail National Business Line West Region Market Lead; Llamas is the Chief Operating Officer at Alameda-Contra Costa Transit.
Q: How did LIT come about?
Llamas: Alva and I met each other at an emerging leaders program at LA Metro. During our tenure, we experienced seeing some of our friends and colleagues branching out and taking leadership positions at other transit agencies. When we went to industry conferences we would see many Latinos there. They represented their agencies in mostly frontline supervisory and mid-management positions and being very successful at it. However, in the c-suite levels, Latinos were underrepresented or not represented at all. We found that they didn't have the guidance on how to get to the next level. During Flora Castillo's tenure as Chair of the American Public Transportation Association (APTA), she realized that there was a need to form a network of industry professionals to help navigate the waters towards a successful career pathway and started organizing breakfast meetings at the APTA events. Those meetings were where the idea of LIT was born.
Carrasco: We've come a long way from talking around a coffee table about what an opportunity it would be for up-and-coming Latinos to have mentors and people in leadership positions that they could lean on to help further our careers in transportation.
Q: How does LIT serve its members?
Carrasco: We knew right away that we needed to do a lot of networking events. You can't be successful without a network whether you're in the public or private sector. We wanted to create a pipeline so we knew we wanted to attract young professionals and students. To attract and retain Latinos in the industry we knew that scholarships were going to be an essential part of our organization. We just started building upon that and over the last few years, our mission has evolved to also including equity and transportation equity for Latinos.
Q: How has the organization grown over the past five years?
Carrasco: I have seen this organization grow from zero members to 11 members (the original board members), to starting our first social media accounts when we had just a handful of followers. I remember setting a goal of getting 100 people to follow us on Linkedln. Today, we have over 900 LinkedIn followers, Facebook and Instagram accounts, and our mailing list has grown to approximately 600 people.
We try really hard to reach all four corners of the country. We have board members on both coasts and in the south and mid-west. Our goal is to continuously expand and in the future to establish regional or local chapters.
Q: How did LIT pivot during the pandemic?
Llamas: Right before the pandemic, we tasked our board members to start having coffee chats in their areas. I've been doing that for a long time at AC Transit, I meet with people before they go to work or on the weekend. When COVID hit, everything shut down and the coffee shop meetings stopped. We had to cancel two LIT events ourselves. In an effort to keep our members engaged, Alva and I decided to go virtual too. We started doing a monthly virtual meeting called "Café con LIT" where we introduced ourselves and shared our stories and we quickly realized that we all have similar backgrounds as immigrants or children of immigrants. We all came up through this upbringing where we didn't have the historical reference to seek out higher education, and careers like the ones we have now were just not in our families. We didn't have that coaching opportunity at home. English was a second language for some of us. We lacked guidance on how to apply to college or for scholarships, etc. The stories resonated with many and it just grew from there. We now have a steady following.
Q: How do equity issues impact the transit industry?
Carrasco: Diversity spawns innovation. When you have the people that are making decisions for multi-million dollar huge capital investments and policies that affect planning projects, infrastructure, and services that are going to be used primarily by low-income communities, we want people that are making those decisions and making those plans to be diverse and mirror the communities they serve. You need people that come from similar backgrounds so they can see where there may be some inequities. When you're going out to do community outreach or engagement, we need Latinos to be part of the decision-making process. Latinos should be appointed as board or commission members in their communities. Unfortunately, there is still a lot of structural racism embedded in our policies and systems. By purposely bringing diversity and inclusion to any planning process, it puts a magnifying lens on equity for not just people of color, but for equity for gender, age, and disability, etc.
Mugica: On the technology side, the number one translated language that we use in public transit is Spanish. We often see people using Spanish translation software to do the translations and it sounds like gibberish when you hear it because the people who were making the decisions didn't fully understand the need or local dialect. It's a case in point to show that you can't just push a button and understand the community that you're trying to address.
Llamas: The people that work in public transit, whether in the private or public side, that are actually driving, maintaining, and performing the necessary work to deliver service; many of them are Latinos. People in the communities we serve, a majority of them are Latinos; so why not have subject matter experts that are Latinos representing the leadership? And that's what we're trying to achieve at LIT. Our purpose extends beyond just leadership to help members understand how to create a career path for themselves, how to prepare to compete for executive-level jobs and be successful. Because we realize it's a competition. We are not trying to give anyone anything; we understand and emphasize, every promotion has to be earned. We also want to improve the industry by raising awareness and influencing solutions that are inclusive.
For more information about Latinos in Transit, visit latinosintransit.org, connect with the organization on LinkedIn, or visit the Avail/Latinos in Transit booth at APTA Expo.